Brewers vs Phillies Prop Bets for Sunday Night Baseball
6 min read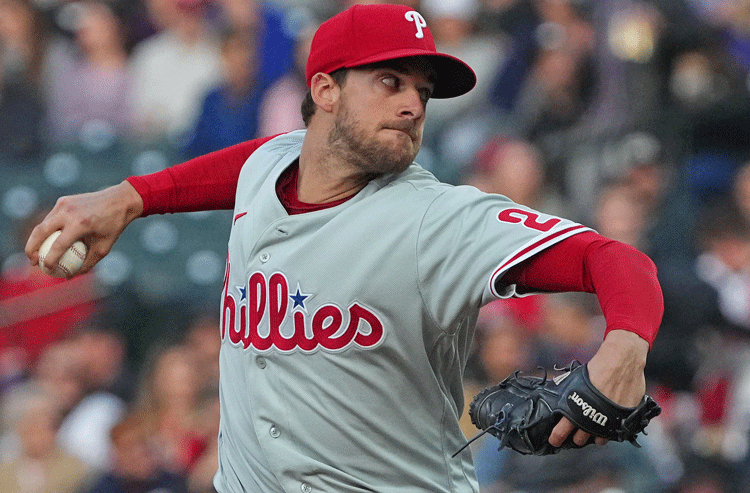 Our Sunday Night Baseball player props are back with a trio of Over selections for tonight's game between the Milwaukee Brewers and Philadelphia Phillies. Chief among them, we like Aaron Nola to get back on track and exceed 6.5 strikeouts.
Welcome to another edition of our Sunday Night Baseball player prop picks, where we highlight a trio of prob bets worth considering in the week's final game.
This Sunday, we see the Milwaukee Brewers square off against Aaron Nola and the Philadelphia Phillies. We're looking at Nick Castellanos' total bases number, Nola's strikeouts, and we're taking a flier on Christian Yelich to score a run. Let's get down to it.
Be sure to also check out our MLB betting preview for tonight's Sunday Night Baseball game as well!
Editor's note: Ontario! Welcome to the world of regulated sports betting. Visit our Ontario sports betting page for the best legal betting sites available to you and all the information you need about this emerging industry.
MLB props for Brewers vs Phillies
Picks made on 4/24/2022 at 1:15 p.m. ET.
The odds widgets below represent the best odds currently available for each betting market at regulated sportsbooks.
Click on each pick to jump to the full analysis.
Best MLB bonuses
If you're signing up for a new sportsbook for the 2022 MLB season, here are two of the best bonuses* available:
B: New users can bet $20 and get $200 in free bets with Caesars! Sign Up Now
B) New users can get two risk-free bets up to $2,000 at PointsBet! Sign Up Now
*Eligible USA locations only
Today's best Brewers vs Phillies prop bets
Casting call
Despite the losing record, the Phillies have swung the bats quite well in the early going. And no one has exemplified that better than key offseason acquisition Nick Castellanos.
The outfielder is batting .321/.381/.571 with three home runs and five doubles over his first 15 games with his new club all while striking out in fewer than 20% of his plate appearances. 
The Brewers are trotting out left-handed starter Eric Lauer tonight and while the southpaw's looked OK over two starts (four earned runs in 10 1-3 innings), he's also faced two of the dirt-worst offenses in baseball in the Baltimore Orioles and Pittsburgh Pirates. The Phillies are stronger from top to bottom.
Lauer had a strong 2021 with a 3.19 ERA but was possibly aided by some good fortune as he compiled a .249 BABIP, which his 4.04 FIP reflected a touch. Either way, he pitches to contact and has registered less than a strikeout per inning throughout his five-year career.
This is music to Castellanos' ears. The 30-year-old slugger absolutely feasts on left-handed pitching. He owns a .303 career batting average versus lefties and has gone 5-for-13 against them in the early going this season. 
The total bases prop is never a lock as even the best players go 0-for-4 some nights (Cleveland's Jose Ramirez did so in back-to-back games), but the situation couldn't be better. Yes, some of Castellanos' teammates have longer odds — and therefore better payouts — but they don't match up quite as well. 
Castellanos is typically batting clean-up, so he's getting a solid number of opportunities to take his hacks and he consistently makes good contact. He's also cleared this number in three straight games, two of which also came against Milwaukee.
Pick: Nick Castellanos Over 1.5 total bases (+115)
Covers MLB betting analysis
Nola back on track
Philadelphia's Achilles heel — at least in terms of overall results — has been its pitching. The pitching staff owns a 4.98 ERA, the fifth-highest in MLB to date. Starters have fared even worse, tallying a cumulative 5.32 ERA in the campaign's first few weeks. Peripherals suggest things should be going better as the staff has a 3.80 FIP and starters are at 3.75.
While co-ace Aaron Nola's FIP hasn't shined, his xFIP of 3.31 reflects how unlucky he's been with regards to giving up the home run ball. He's allowed four homers in 14 2-3 innings thanks to an absurd 36.4% HR/FB rate. Now, we are looking at his strikeouts prop, but this can all be illustrative of why it's OK to trust a pitcher who, on the surface, has appeared to struggle for an extended period of time.
Nola was snakebitten last year with an inflated 4.63 ERA thanks, in large part, to a .308 BABIP and an increased HR/9 of 1.30. His identical 3.37 FIP and xFIP tell us he should have had better overall results. He excelled at limiting walks (a career-best 1.94 per nine innings) and at tallying strikeouts (a career-best 11.11 K/9 over the course of a full season). 
Taking the Over on strikeouts has been dodgy business this season because of an abbreviated spring training in the wake of the lockout. This is starting to stabilize a bit as pitchers begin to get stretched out.
Nola hasn't seen much of a dip in fastball velocity, averaging 92.7 mph on his four-seamer compared to 93.1 over each of the last two seasons. Walks undid him against the New York Mets, limiting him to just 3 1-3 innings. His most recent start came against the Colorado Rockies at Coors Field where he only fanned four over 5 1-3 innings. You can throw that one out.
He potentially gets a bit of a respite tonight against a Brewers offense that has looked completely out of sorts. While the team's 24.3% strikeout rate only ranks in the middle of MLB, they're batting .209 (fifth-worst) with a .288 OBP (seventh-worst).
Milwaukee should rebound a bit eventually, but the Brewers also featured the fourth-worst team batting average in 2021, so offensive shortcomings are nothing new to the Brew Crew. If Nola can limit the walks and home runs to be more in line with his career averages, he should be able to clear his strikeouts total with ease.
Pick:  Aaron Nola Over 6.5 strikeouts (-134)
Taking a flier on Yelich
It seems like an eternity since Christian Yelich was among baseball's best hitters. He struggled mightily during the pandemic-shortened 2020 season, which could have easily been a blip for anyone, but then followed that up with a disappointing 2021. He hit .248/.362/.373 with just nine home runs in 117 games as he spent considerable time on the injured list with lingering back issues.
His 2022 hasn't exactly looked any better as he has a .204 batting average and has just one long ball as it seems increasingly likely that he may never regain the power stroke that saw him mash 44 taters in 2019.
Nevertheless, Yelich has maintained a solid approach at the plate. He walked in 14.7% of his plate appearances in 2021 and has done so in 13.6% of them through 14 games this season. So, even if he's not getting base hits, Yelich is still getting on base at an excellent clip (.362 OBP in 2021).
And while we are bullish on Nola finding himself tonight, if he does struggle with command, Yelich may benefit.
Yelich hasn't scored a run in four games, but he has swiped a base in back-to-back contests, so he's putting himself in a position to succeed when he gets on the bag. It's still just a flier because Yelich scoring will be dependent on his teammates driving him in (unless he unlocks his home run swing). But at +150, it's worth a sprinkle.
Pick: Christian Yelich Over 0.5 runs scored (+150)
MLB parlay
Did you know that if you played today's MLB props as a parlay, you could win $83.86 on a $10 bet?
Use our MLB parlay calculator to create your own parlays and see their potential payouts.